Mobile App Development
As more people buy wireless handheld devices such as personal digital assistants (PDAs) and cellular phones, the demand to access online resources increases.
From information about orders, to learning about products and services, to database access, customers are increasingly demanding access to information and services from mobile devices.
As one of the fastest growing IT companies in India, we are able to meet any online need. Our team has been in pace and have developed mobile applications for iPhone, BlackBerry, Windows Mobile and the latest and trendiest Android.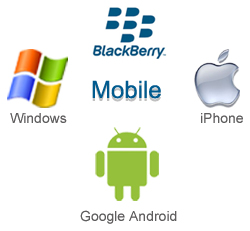 It's hard to ignore that computing has become more robust and mobile. Keeping this in mind we have emerged as one of the leading mobile application development companies. We not only develop customer friendly applications for our clients but also keep in mind flexible management and cost effectiveness.
Ojas team has developed API to speed up the work which needed complex business logic, data processing and data security. Ojas mobile app development team is certified/skilled/responsible team which will bring your mobile application faster and low cost in the app market. Our team also helps you to test your mobile for mobile application compatibility.
We have a team of professional mobile developers who can convert a website into mobile apps for enterprises to improve productivity. We lead the world in quality app development using the most advanced technologies and programming resources.
Our apps development team aims at shortening the time from concept to launch while keeping quality under strict scanner. Our process of delivering solution is very advance which save time and money for client's also implicit effort been taken to develop robust application. Our APIs save time in cutting development duration and provide secure solutions.